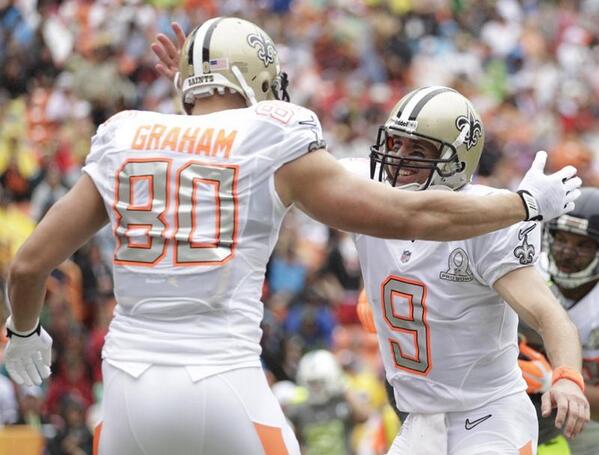 Not a surprise to hear that the New Orleans Saints have placed the franchise tag on the best TW in the league Jimmy Graham. The move means Graham, barring a holdout, will make no less than $7.04 million next season.
It is also possible, under the NFL's collective bargaining agreement, that Graham could be tagged as a receiver because of how often he lined up split wide from the line. That would carry a tag of $12.3 million. That is probably what Graham's agent will will push as Graham's stats are more like a wide receiver than a traditional tight end. He led the Saints in catches with 86, yards with 1,215 and touchdowns with 16. That is the third consecutive year that Graham has led the team in catchers, and he has led the club in yards receiving and touchdowns in two of the last three seasons.
During the past three regular seasons combined, he has 270 catches for 3,507 yards and 36 touchdowns.
Graham has said publicly during the Pro Bowl in February that it would be "unfortunate," if the team used the franchise tag on him, but on Friday he reacted to the move with subtle humor.
Afterward, Graham wrote on his Twitter account:
Confirming it's officially Franchisefriday… TAG … I guess I'm it…

— Jimmy Graham (@TheJimmyGraham) February 28, 2014