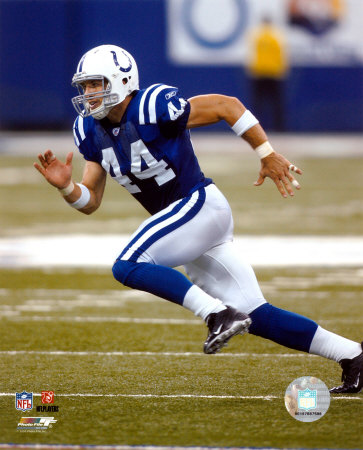 Indianapolis Colts tight end Dallas Clark has been placed on injured reserve and is now out for the remainder of the NFL season.
Clark is widely considered one of the most reliable pass catching tight ends in the league and has been used as an excellent safety valve to shorter routes down the middle of the field by Peyton Manning in recent years. Last season Clark eclipsed 100 catches, 10 TDs, and 1,100 yards and earned his way onto the AFC Pro Bowl roster, but this year the tight end will finish the year with 37 catches and 347 yards receiving.
Clark made the following statement about the decision to undergo wrist surgery effectively ending his season this week in the process:
It's unfortunate, but it's been confirmed that surgery is necessary to repair the injury to my wrist. I look forward to supporting my teammates the rest of this season and rehabilitating my wrist back to full strength for next season.
Clark will return next year for his ninth in Indianapolis and nobody on that roster will miss the Pro Bowler more then Peyton Manning will. Manning loved to target Clark when nobody else was open down the field and the tight end was a popular target on 3rd and short situations and around the goal line as well. Perhaps what the Colts lose even more then an excellent short yardage target is the fact that Clark was often the focal point of defenses to stop and the tight end helped open up the rest of the receivers due to being double covered a decent amount of the snaps.
The Colts have little depth at the position and will now rely on Brody Eldridge, Jacob Tamme. and Justin Snow to fill in at the vacant spot. If anyone in the league can make these guys a household name then it is certainly Peyton Manning. Look what the guy has done with Austin Colley, Pierre Garcon, and most recently Blair White. Better look for one of these guys to step up and try to fill some very big shoes left by Dallas Clark.